P-tert-butyl phenol (PTBP) CAS No. 98-54-4
Product Detail
Product Tags
p-tert-Butylphenol (English name P-tert-Butylphenol, 4-t-Butylphenol) also known as 4-tert-Butylphenol (4-tert-Butylphenol), 1-Hydroxy-4-tert-butylbenzene (1-hydroxy - 4-tert-Butylbenzene), 4-(1,1, Dimethylethyl)phenol (4-(1, 1-dimethylethyl)phenol), abbreviated as PTBP. P-tert-butyl phenol is white or white flake solid at room temperature, with special alkyl phenol odor. It burns in an open flame. Flammable but not flammable, decomposition by heat gives off toxic gases. Soluble in alcohols, esters, alkanes, aromatic hydrocarbons and other organic solvents, such as ethanol, acetone, butyl acetate, gasoline, toluene, etc. Slightly soluble in water, soluble in strong alkali solution. This product has the common characteristics of phenolic substances, in contact with light, heat, contact with air, color gradually deepened. This product is toxic and moderately irritating to skin, mucous membrane and eyes. Toxic to aquatic organisms and may have long term adverse effects on the water environment. The main purpose is to synthesize p-tert-butyl phenolic resin. It can also be used as an inhibitor and stabilizer. The molecular formula is C10H14O.
Chinese name: p-tert-butyl phenol
p-tert-Butylphenol
English abbreviation: PTBP
Boiling point: 238℃
【CAS login number 】98-54-4
【EINECS entry number 】202-679-0
Dangerous goods transport code: 3077
【 Molecular weight 】150.2176
【 Molecular Formula and Structural formula 】 The molecular formula is C10H14O, and the chemical formula is as follows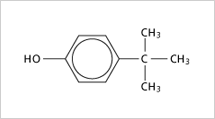 Molecular: 150.22
The relative density is 20℃ : 1.03
CASNo:98-54-4
Appearance (Appeara: white or protowhite flake solid
Content (Purity) :≥99%
Chroma :≤100APHA
Freezing point :≤97.0℃
Flash point :113℃
Relative density: 0.908
Melting point: 98℃
Refractive index: 1.4787
Chemical property
Soluble in methanol, acetone, benzene, ethanol, ether, slightly soluble in water. An open flame can burn. Decomposition by heat releases toxic gases. Poisonous, moderate irritant to skin, mucous membrane and eyes.
Used for synthesizing p-tert-butyl phenolic resin. It can also be used as an inhibitor and stabilizer. Store in a cool, ventilated warehouse. Keep away from fire, heat and light.
property
This product is white or white flake solid at room temperature. It is flammable but not flammable. It has special alkyl phenol odor. Soluble in alcohol, esters, alkanes, aromatic hydrocarbons and other organic solvents, such as ethanol, acetone, butyl acetate, gasoline, toluene, soluble in strong alkali solution, slightly soluble in water. This product has the common characteristics of phenolic substances, in contact with light, heat, contact with air, color gradually deepened.
Quality index
Index name excellent product first-class product qualified product
Appearance White sheet white or yellowish lumpy solid
Mass fraction /% of p-tert-butylphenol ≥99.0 96.0 95.0
Melting point /℃≥97.O 95.O 94.O
Moisture /%≤O.5 1.O 1.0
Used to produce oil soluble phenolic resins, light stabilizers and fragrances.
[Common chemical reactions] with phenol-benzene ring substitution and hydroxyl reaction properties.
Oxidant
[Polymerization hazard] No polymerization hazard
P-tert-butylphenol has antioxidant properties and can be used as a stabilizer for rubber, soap, chlorinated hydrocarbons and digestive fibers. Uv absorbent, pesticide, rubber, paint and other anti cracking agent. For example, used for polycarbon resin, tert-butyl phenolic resin, epoxy resin, polyvinyl chloride, styrene stabilizer. In addition, it is also the raw material of pharmaceutical insect repellent, pesticide and acaricide, fragrance and plant protection agent. It can also be used as softener, solvent, additive of dyes and paints, antioxidant of lubricating oil, oil demulsifier and additive of vehicle fuel.
Toxicity and environment
This product belongs to chemical poisoning. Inhalation, contact with nose, eyes or ingestion can irritate eyes, skin and mucous membranes. Skin contact can cause dermatitis and burn risk. Heat decomposition gives off toxic gas;
This product is toxic to aquatic organisms and may have long-term adverse effects on the water environment. Pay attention to the environmental hazards of waste and byproducts from the production process.
Packing, storage and transportation
The product is lined with polypropylene film, coated with light-resistant paper bag and packed in hard cardboard bucket with a net weight of 25Kg/ bag. Store in a cool, ventilated, dry and dark storeroom. Shall not be placed near the upper and lower water pipes and heating equipment, to prevent moisture, heat deterioration. Keep away from fire, heat sources, oxidants and food. The means of transport shall be clean, dry and protected from the sun and rain during transport.
---
Previous:
Methyl 4-chloroacetoacetate
---
Write your message here and send it to us